After Keith and Adrienne (known as Aviva) Siegel were dragged off to Gaza by Hamas gunmen on 7 October, the couple's four children sat down with their own children, aged three to nine, to try to explain the calamity that had fallen on their grandparents.
"How do you explain to children that someone can forcibly take them from their own home, their sanctuary? It is every child's greatest fear, and unfortunately, this fear became a reality," stated Yuval Baron, the son-in-law of the Siegel family and uncle to their five grandchildren.
We attempt to shield them from the atrocities while also attempting to convey the circumstances and share our optimism with them. However, it is extremely challenging.
The 64 and 62-year-old Siegels were awoken on the morning of October 7th by the sound of sirens. They quickly grabbed a phone and rushed to their safe room, still in their pajamas, anticipating a 10-minute stay. The couple has resided in Kfar Aza, a kibbutz near the border with Gaza, for nearly 40 years and are accustomed to the presence of rockets and missiles, according to Baron.
The Siegels maintained communication with their family through WhatsApp, informing them that they had received a message on the kibbutz's group chat advising them not to speak aloud and also letting them know that their battery was low. However, the messages suddenly stopped at around 10 in the morning.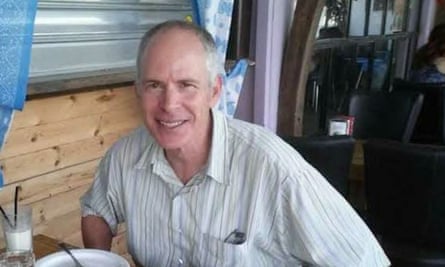 Baron stated that they were receiving additional updates about the events taking place, as there were terrorists on the kibbutz who were killing people. However, they were unaware of Keith and Aviva's situation and were left without any knowledge.
After approximately 30 hours, the Israeli military successfully regained authority over the kibbutz, but there was no sign of the Siegels. The thought of them being either abducted or murdered began to weigh heavily on our minds.
Afterwards, the Israeli government verified to the relatives that the pair were part of a group of 220 individuals being held captive in Gaza.
Baron, who resides in northern Israel, expressed, "It has been 18 days and we have received no updates or information at all. We are unsure if they are still together or if they have access to their medication. Our tears and hope are dwindling."
According to Baron, Aviva is a kindergarten teacher and Keith is employed at a pharmaceutical company. They are described as "humble and unassuming individuals" who prioritize their family above all else. Baron expressed the importance of their return.
The recent liberation of four captives has brought a glimmer of hope to the Siegel household. While four have been successfully rescued, there are still 220 remaining. Urgent action and increased efforts are necessary. Furthermore, the kidnappings were carried out by multiple groups and the experiences of one hostage may not be applicable to others.
"
"Instead of prioritizing the return of our loved ones, Israel seems to be solely focused on dismantling Hamas. The safe return of the hostages should be the top priority not just for Israel, but for the entire global community."
"Try to envision if this were your child, grandchild, or elderly family member. In today's society, it's hard to fathom that such a situation could occur. We also never thought it could happen until it turned into our worst nightmare."
Source: theguardian.com