Dave Rich and his group of volunteers at the Community Security Trust were carrying out their usual duties on Jewish holidays, which involve coordinating security measures.
David explains to Nosheen Iqbal that the weekend was a significant Jewish festival, typically a joyous and festive occasion for the Jewish community. As a result, CST had already implemented a security operation for the weekend due to the persistent and historical threat of terrorism faced by Jewish communities globally.
Upon receiving news of the attack by Hamas, he was aware that action needed to be taken in the UK.
Our initial action was to assess methods for enhancing security and reach out to the police for assistance in increasing law enforcement. It is disheartening that this is our immediate reaction in today's society.
Ever since the Hamas attack and subsequent Israeli government's airstrikes in Gaza, there has been a rise in hate crimes targeting Jewish individuals in the UK. Dave informs Nosheen about the cases documented by the CST and the impact of the ongoing conflict on the Jewish community.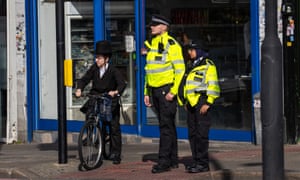 Support The Guardian
The Guardian maintains editorial independence and strives to make our journalism available to everyone. However, we rely on our readers more and more to support our efforts financially.
Support The Guardian
Source: theguardian.com