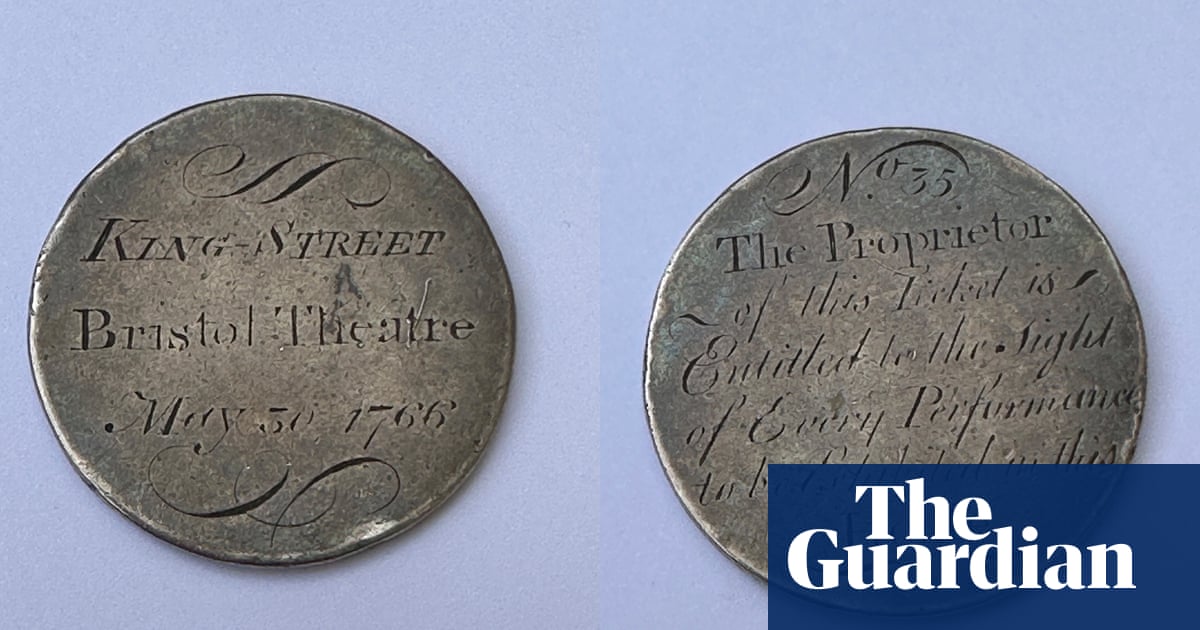 The Bristol Old Vic has pledged to adhere to a long-standing tradition and offer complimentary tickets for all performances to the buyer of a silver token from 1766, currently up for auction.
Theatre shareholders received 50 tokens, which granted them access to all performances.
The original name of the Bristol Old Vic was the Theatre Royal, constructed on King Street from 1764 to 1766. Its grand opening took place on May 30th of that year.
The text on the token, with ticket number 35, declares: "The owner of this ticket has the right to attend all shows presented at this venue." On the other side, it says: "Bristol Theatre, King Street / May 30, 1766."
Fifty initial stakeholders, or owners, who individually contributed £50 – a considerable amount during the 18th century – to finance the building of the theater were given a silver token in exchange.
The token is currently up for auction at the Henry Aldridge & Son auction house in Devizes, Wiltshire. It is expected to fetch a price of £1,500 to £2,500.
The Bristol Old Vic has stated that they consistently stand by their policy regarding authenticated tokens. They have also assured that if the token is proven to be authentic, they will fulfill their policy by giving the owner free tickets.
A representative from the auction house informed the BBC that although it is estimated that 20 of the coins still exist, only a few of them have been put up for auction. The sellers are from Bristol and have always valued the item as a significant part of their local history.
Throughout time, tickets have been exchanged, purchased, misplaced, discovered, and even counterfeited. The University of Bristol Theatre Collection has comprehensive records that have aided in tracing the origins of certain tickets. It is documented that one ticket was listed for sale at the price of £30 in 1791.
According to historical documents, a ticket with the number 35 was issued to William Jones, a shareholder, in 1766. By 1815, the ticket had been acquired by John Wadham, a well-known blue glassmaker from Bristol. Wadham, who owned Frenchay Manor and served as a director for the Bristol Floating Harbour Company in 1820, was the new owner of the ticket.
The ownership of the silver ticket was ultimately inherited by Thomas, the son of Wadham. In 1843, Thomas held the position of High Sheriff in Bristol and also founded Winterbourne school. The Smyth family of Ashton Court were among the notable owners of the silver ticket.
Source: theguardian.com