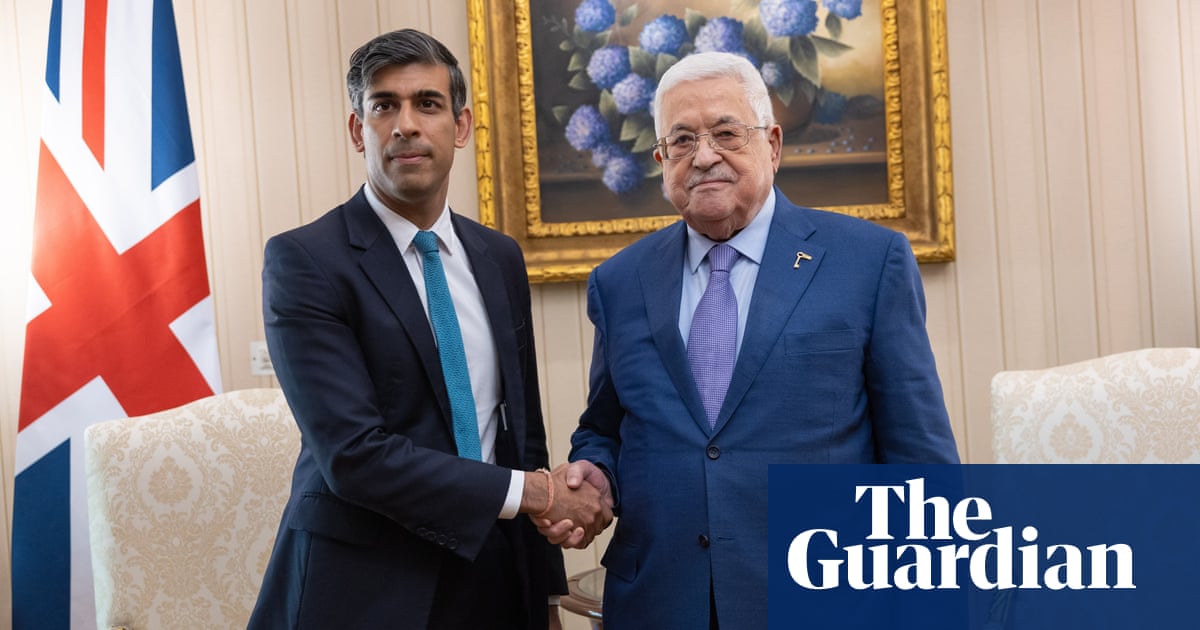 Rishi Sunak has held talks in Cairo with the leader of the Palestinian Authority, Mahmoud Abbas, where the two men condemned Hamas and the prime minister reiterated the UK's support for a two-state solution to the Israeli-Palestinian conflict.
"The leaders reached a consensus on the importance of all parties taking action to safeguard civilians and civilian infrastructure, while also reducing the number of innocent lives lost," stated a representative for Sunak.
The conference is being held a few days after Abbas, who is currently attending a summit in Egypt on Saturday, announced that he would not be meeting with Joe Biden, who was visiting the region this week. This decision came after the recent explosion at the al-Ahli Arab hospital in Gaza.
The representative stated that Sunak and Abbas expressed disapproval of Hamas's acts of terrorism and emphasized that Hamas does not speak for the Palestinian population.
On Friday, Sunak arrived in Cairo as the last stop on his tour of the Middle East, with the goal of mitigating the escalation of the Israel-Hamas conflict.
The spokesperson stated that the prime minister offered his sincere sympathies for the civilian casualties in Gaza, including the devastating damage to al-Ahli hospital. They also reaffirmed the UK's ongoing dedication to a two-state resolution and creating a peaceful and secure future for both Israelis and Palestinians.
After meeting with Egypt's president, Abdel Fatah al-Sisi, Sunak stated that Britain shares a vision for the Palestinian people to have security, opportunity, and dignity. According to Downing Street, the two leaders agreed on the importance of avoiding further conflict in the region.
The United Kingdom is currently placing a high importance on reopening the crucial Rafah crossing between Egypt and the Gaza Strip. This is in order to provide necessary aid to the Palestinian population in that area.
"I am excited to collaborate with Egypt in ensuring the swift delivery of aid to those in need," Sunak informed Sisi. He also mentioned that the UK's increase in humanitarian aid by £10m is a tangible demonstration of their dedication to this cause.
Sunak traveled to Egypt following a prior meeting on Friday in Saudi Arabia with the emir of Qatar, Sheikh Tamim bin Hamad al-Thani.
Qatar, where the exiled former leader of Hamas Khaled Meshaal resides, is seen as an important intermediary in attempts to negotiate the liberation of approximately 200 captives who have been brought to the Gaza Strip.
According to Downing Street, Sunak expressed gratitude to Qatar for their work in obtaining the freedom of captives, including citizens of the United Kingdom.
Sunak met with Mohammed bin Salman, the Saudi crown prince, on Thursday after traveling from Israel. In Israel, he had discussions with the prime minister and president.
Source: theguardian.com