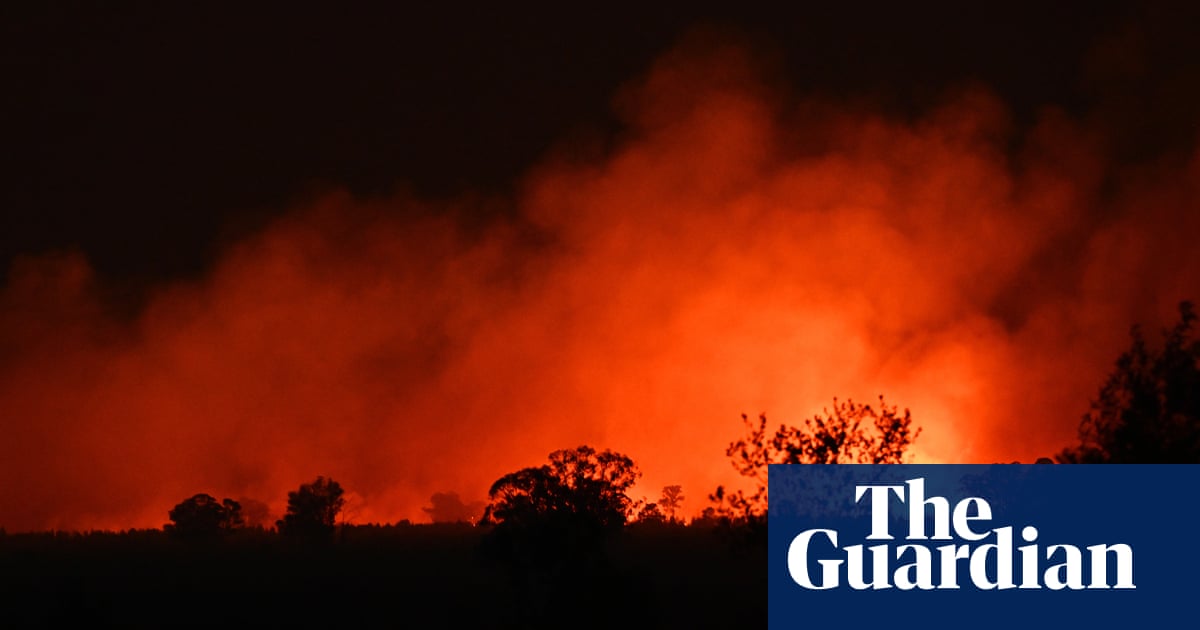 On Thursday afternoon, emergency responders fought against over 150 fires in Queensland and New South Wales. The cause of these fires is believed to be lightning strikes and challenging weather conditions, according to officials.
A dangerous blaze that resulted in the loss of two lives and the destruction of 16 homes in southern Queensland is currently being brought under control. However, officials remain cautious due to the high risk of fires, as there are currently 60 active fires in the state.
Over 1,000 individuals have been sent to the northern region of New South Wales to address significant wildfires in various areas. As of Thursday afternoon, there were 110 fires throughout the state, with 55 still not under control.
Join Guardian Australia's complimentary morning and afternoon email newsletters to receive a daily summary of news.
Several individuals are still not permitted to go back to Tara, located to the west of Brisbane. However, certain residents in the southern regions of the town have been given the green light to return with caution. Those residing in Kogan, to the northeast of Tara, have been advised to make necessary arrangements for evacuation.
On Tuesday evening, a body that has not been identified was discovered in the Western Downs area, which had been heavily damaged by fire. Additionally, a 73-year-old woman passed away after experiencing a heart attack while attempting to evacuate her property.
On Wednesday evening, a shift in wind and some light rain seemed to offer relief for exhausted firefighters. However, things took a turn when lightning sparked five additional fires.
The mayor of Western Downs, Paul McVeigh, expressed that the incident caused more problems for our firefighters. They had to address five separate occurrences of lightning strikes and extinguish them immediately.
Tara now has a plan for recovery as firefighters are optimistic that the extensive fire, spanning over 11,000 hectares, will be completely under control by Thursday evening.
Over 40 teams were expected to finish containing the fire, while additional firefighters worked to extinguish a nearby blaze that was endangering Halliford. The fire was started by a lightning strike on Wednesday evening.
There were concerns that the fire might also endanger Tara, resulting in the transfer of several hundred evacuees to Dalby and Chinchilla on Wednesday evening. 239 individuals were moved to Dalby and 28 to Chinchilla.
Approximately 150 firefighters were dispatched to combat the fires, while 34 water-bombing planes were ready for use. On Thursday, residents in Halliford and neighboring Wieambilla were instructed to evacuate their homes.
A blaze in the Darling Downs region of south-western Australia burned approximately 3,000 hectares of land, resulting in the destruction of a home and the displacement of individuals to evacuation centers. The fire was brought under control on Thursday. However, there are still active fires posing a threat to Undullah, located south-west of Brisbane, and Mutchilba, situated in northern Queensland. Residents have been advised to seek immediate shelter in these areas.
The Maranoa region in the south-west and the central west, north-west, and Channel Country were under severe fire danger warnings.
The Bureau of Meteorology has announced that a change in wind direction from the south will result in cooler weather in western Queensland. However, they have also cautioned that this change will bring strong and gusty winds, increasing the risk of fires in the upcoming days.
A fire in the Nymboida region, located 30km southwest of Grafton in New South Wales, was partially contained following the issuance of an emergency warning due to hazardous weather conditions causing unpredictable fire behavior.
On Thursday afternoon, firefighters were attempting to create boundaries around a wildfire that was still burning uncontrollably. The fire had already spread over an area of 3,475 hectares.
Other keenly watched fires include a 1,600-hectare blaze on Thunderbolts Way, near Gloucester, and a fire that has scorched 1,470 hectares of the national park east of Tenterfield.
Angela Burford, the operational officer of NSW Rural Fire Service, stated that the stormy weather contributed to an increase in the number of fires throughout the day.
"We witnessed a lightning strike in northeastern New South Wales, resulting in new fires starting in both Tamworth and the surrounding areas," stated the speaker.
Numerous fires to the west of the Kempsey region are currently under close surveillance. One in particular, located in the Willi Willi national park and its surrounding regions, has already scorched over 29,500 hectares and is currently being managed.
Source: theguardian.com