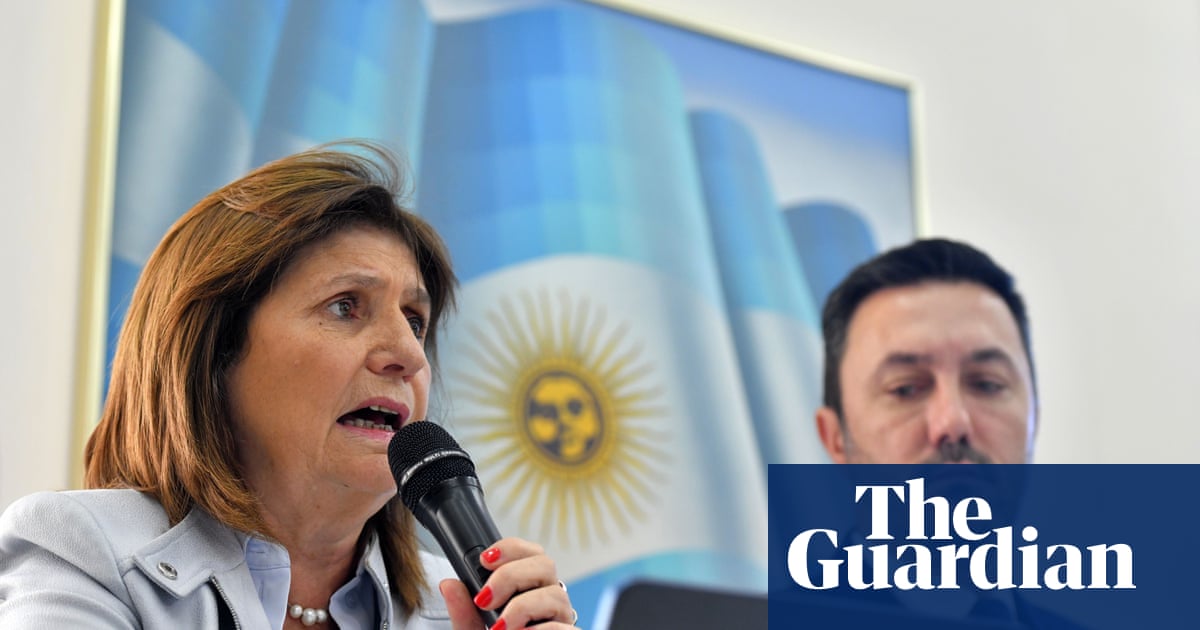 Patricia Bullrich, the Argentinian presidential candidate who lost the election and placed third on Sunday, has publicly supported the libertarian figure Javier Milei for the upcoming runoff election in the following month.
In the initial round of voting, Bullrich received 23.8%, placing third behind the unexpected frontrunner, economy minister Sergio Massa, who secured 36.7% of the vote. Following closely behind was Milei with slightly over 30%.
Bullrich stated on Wednesday that the nation requires a significant transformation, cautioning against the persistence of the most disastrous government ever. This is in regard to Massa's Unión por la Patria coalition, which is headed by former president and current vice-president Cristina Fernández de Kirchner.
Fernández de Kirchner has held the position of either president or vice-president for a total of 12 years in the past 20 years. Her late husband, Néstor Kirchner, was also president from 2003-2007.
Bullrich stated to the media that the current circumstances do not allow for neutrality. It is crucial for Argentina to avoid a new Kirchnerist era led by Sergio Massa.
Bullrich expressed her thoughts as her coalition, "Together for Change," divided into its three component parties.
The previous security minister promised to put aside her disagreements with Milei. However, Elisa Carrió from the Civic Coalition party expressed her shock at Milei's stance on various issues, such as legalizing the organ trade, potentially allowing the sale of children, and implementing dollarization in Argentina's economy. Carrió believes this would make the country vulnerable to drug cartels in the financial markets.
Carrió stated that they will not engage in selling organs as it goes against human rights. They also do not condone the sale of children or the legalization of drug trafficking, as it could result in crimes against humanity.
The centrist Radical party, one of the three members of the alliance, announced their opposition to Bullrich's new ally. They stated that "the extreme demagoguery of Javier Milei goes against our beliefs."
The leader of the Radical party, Gerardo Morales, expressed feeling "ashamed" about Bullrich's decision.
If Milei combines his 30% of votes with the 24% obtained by Bullrich on Sunday, he will have sufficient support to defeat Massa. However, Massa is attempting to gain votes from Bullrich and Milei's disenchanted supporters.
Bullrich comes from a wealthy family and has previously served in cabinet positions and held seats in different governments, aligning with the same political establishment that Milei promised to eradicate. Additionally, it is uncertain if Bullrich's conservative followers can accept the unconventional Milei.
However, this ability to adapt to different political ideologies is inherent to the 67-year-old politician, whose initial involvement in politics was as a young member of the radical leftist group Montoneros. Bullrich has held positions within the Peronist party, the moderate Radicals, and a variety of conservative alliances at different points in time.
In the 2023 election race, Milei brought up her history as a guerrilla and accused Bullrich of planting bombs in kindergartens. In response, Bullrich filed a defamation lawsuit.
During the press conference on Wednesday, Bullrich was asked about the altercation and stated that she had pardoned Milei and was retracting the legal accusations. In response, Milei clarified that his intention was to convey that "she had caused harm in a situation involving a child".
A survey released on Wednesday by the newspaper Clarín, which is known for its opposition to Kirchner, revealed that Massa and Milei were in a close race for the runoff election. Milei had 41.6% of the vote while Massa had 40.4%, with a margin of error of 2.4 points.
The upcoming November election may see a high number of people not voting, as 10.4% have stated they will not participate and 7.5% are still undecided.
Source: theguardian.com