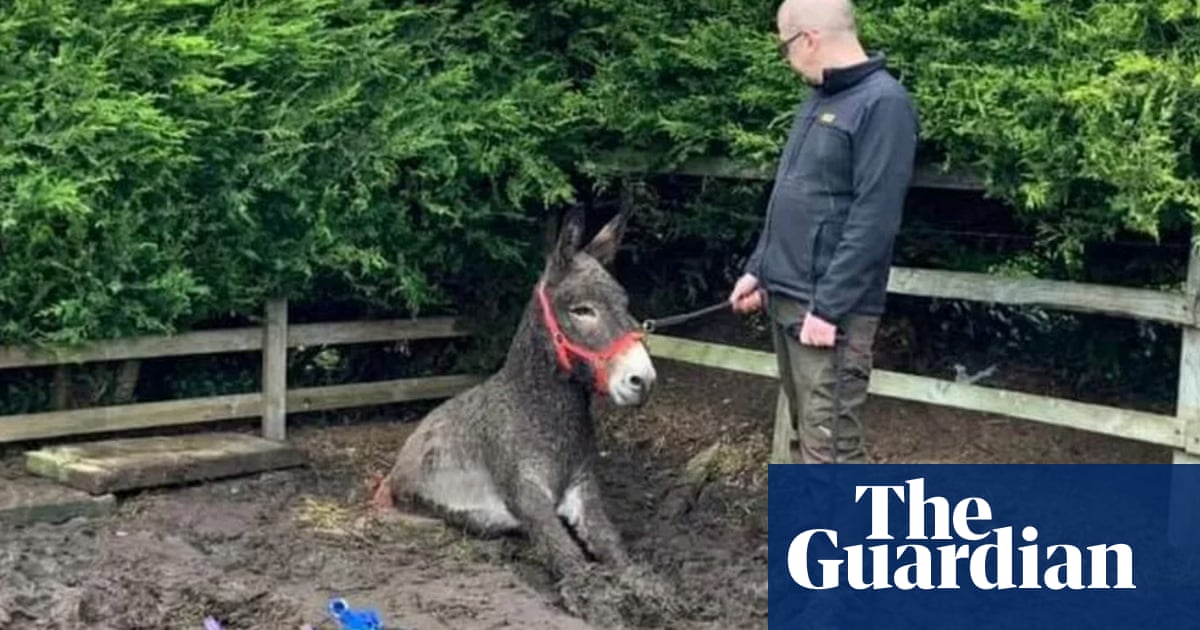 Amigo, a donkey in Shropshire, has gained a reputation for being stubborn. However, when firefighters came to his rescue after getting stuck in a muddy field, it wasn't due to his stubborn nature.
A representative from Shropshire fire and rescue stated that a group of "10 or 11 firefighters" responded to a call for assistance in rescuing the unfortunate animal. The animal had fallen into a storm drain, which was hidden under leaves, and was trapped in waist-deep mud.
The firefighters successfully rescued Amigo, a donkey stuck in a storm drain, by using straps and lines. Prior to pulling him out, a vet sedated Amigo to prevent him from panicking and getting hurt.
On Friday morning, a specialized team from the service conducted a two-hour rescue operation at a farm.
Upon their arrival, the firefighters quickly realized that "poor Amigo" was in a predicament.
"
The dog's hind legs had become trapped in a hidden storm drain under some plants, and his owners were unaware of its presence. Despite remaining composed, the dog was unable to free himself.
After the veterinarian arrived and the team from the animal rescue organization created a strategy to save Amigo, he was given medication to prevent harm to himself and the rescuers. Then, everyone worked together to carefully move him to safety with the help of straps and ropes.
"After being freed from the drain, he was able to stand up and the veterinarian examined him. Fortunately, he suffered no harm from his experience and we believe he was relieved to be liberated once more."
The owner has been reunited with their donkey.
A representative from the fire department expressed their joy at being able to help Amigo on a post shared on social media.
Source: theguardian.com