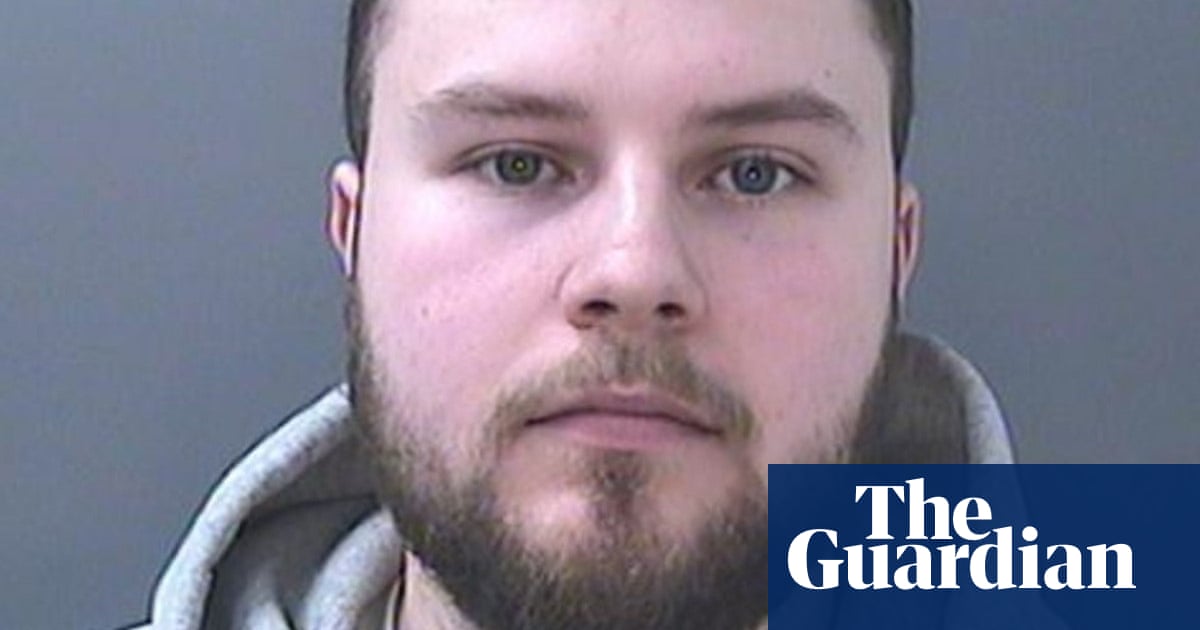 A former police officer who encouraged over 200 girls, some as young as 10, to send him sexually explicit images and videos has been sentenced to life in prison with a minimum of 12 years.
Lewis Edwards, age 24, was given a sentence while investigators disclosed their ongoing efforts to locate numerous additional victims throughout England and Wales. They also confirmed that he had perpetrated some of the abuse while serving with the South Wales police force.
The force acknowledged that his criminal actions could harm public trust, but assured that they took immediate action to arrest and suspend Edwards as soon as they became aware that the perpetrator was a member of their organization.
In addition to ongoing efforts to find additional victims, law enforcement is actively seeking a person known as "Snap God" on the darknet, who is believed to distribute images of child abuse. This individual, who goes by a name that Edwards coerced some of his victims into writing on their bodies, is a target of the investigation.
Although he confessed to committing 160 crimes, Edwards impeded the investigation by refusing to provide law enforcement with the passwords and codes for his electronic devices. He also chose not to attend his sentencing hearing in court.
The Cardiff crown court heard that Edwards pretended to be a teenage boy, going by different fake names such as James, Jacob, and CJ, during a three-day sentencing hearing that was filled with strong emotions.
Judge Lloyd-Clarke, the recorder of Cardiff, stated that Edwards was a frequent and dangerous criminal who committed his offenses for sexual pleasure and derived satisfaction from having power and dominance over his victims. According to her, his response to their suffering demonstrated his cruelty and sadistic tendencies.
The judge stated that the perpetrator psychologically manipulated his victims, gaining control over them. He coerced them into sharing indecent images and videos, as well as engaging in sexual activities online while he watched.
His victims would often obey him in the hopes that he would stop bothering them. However, he would manipulate and coerce them into doing what he wanted by threatening to share images. Despite some victims pleading for him to stop and even expressing suicidal thoughts or self-harming behavior, he persisted in his actions.
Lloyd-Clarke acknowledged that his actions had caused great harm to his victims and their families. He also expressed that they should not feel any guilt or responsibility for what happened to them. They are not at fault and should not be held accountable.
The judge noted that the defendant's status as a police officer was an aggravating factor, as his conduct had significantly damaged the reputation of South Wales police and the police force as a whole.
After manipulating his targets to share photos and videos through Snapchat, which he secretly saved, he would blackmail them by threatening to distribute the material to their loved ones unless they sent him even more explicit content. In addition, he would locate the girls' residences and make threats of bombing or harming their family members.
While working, Edwards engaged in some of his misconduct and subsequently contacted a young girl who was vulnerable after visiting her during his job.
Some victims hid the abuse for months from their families and contemplated suicide. A number stopped going out because they felt they needed to be in the privacy of their own homes so they could meet his next demand.
Edwards had a clean record and successfully cleared the police's vetting process without any red flags being raised.
Detective Superintendent Tracey Rankine of the South Wales Police stated that there were no indications or warning signs about the individual in question. It was a surprise to discover that it was him, as he appeared to be an ordinary person.
She expressed that the disclosure of the abuser's identity as a police officer caused a strong impact within the police force. "We strive for a relationship with our communities based on trust and confidence. Unfortunately, this one person has damaged that relationship for us."
Rankine stated that approximately 15 law enforcement agencies in England and Wales were involved in the investigation due to the wide range of individuals victimized by Edwards.
She stated that the individuals involved were young, innocent children who believed they were communicating with someone of their own age. However, the situation took a turn for the worse with aggressive and threatening behavior, leaving the children feeling like they had no choice but to comply with the requests. This will have a significant and lasting impact on many people.
In addition to seeking out his own victims, Edwards also purchased child sexual abuse imagery through the use of bitcoin from someone known as "Snap God". This ultimately sparked the investigation. As part of the ongoing investigation, authorities are trying to track down this distributor. However, it has not been discovered that Edwards shared the material he obtained with other individuals involved in child pornography.
When asked about the measures in place to ensure children's safety on Snapchat, Rankine stated that there is always potential for improvement in terms of preventing inappropriate messaging and regulating their own platform. They hope that Snapchat is constantly seeking ways to protect its users.
Before he could be fired, Edwards left his job as a police officer and resided with his parents in a semi-detached home in Bridgend, located in south Wales. In court, his defense characterized him as "emotionally immature," stating that he had never been in a romantic relationship with someone his own age and struggled with low self-esteem.
The NSPCC Cymru stated that the upcoming online safety bill is crucial because it will enforce tech companies to prioritize children's safety when designing their websites.
The creators of Snapchat, Snap, have stated that any form of sexual exploitation of minors is repulsive and against the law. Our thoughts are with the victims involved in this situation. We utilize advanced detection methods to prevent this type of abuse and cooperate with law enforcement in their investigations.
"Our platform has additional safeguards in place for minors, including a newly implemented pop-up notification for teenagers when they receive communication from unfamiliar individuals. Our family center also provides parents with the ability to monitor their teenagers' conversations."
Source: theguardian.com