Russell Crowe has recently earned another achievement, which is a six-foot tall, armor-wrapped, and edible item.
The 59-year-old actor posted a picture on Thursday of a chocolate statue based on his strongman character Maximus from Gladiator, the role that earned him his sole Oscar.
"According to Crowe's post on X (formerly known as Twitter), some individuals have bronze statues made of them, while others have marble ones. However, in Malta, there is a chocolate figure of me!"
Crowe also informed his followers that he would be free to have a meal with them.
The sculpture appeared on Saturday at the annual Hamrun chocolate festival held in central Malta, an event which reportedly drew 25,000 visitors last year.
The festival, now in its 13th year, showcases large-scale chocolate artworks and offers tastings and presentations on the history of chocolate. Past themes have featured famous figures such as Elvis, a Minion, and Johnnie Walker, the namesake of a popular whisky brand from Scotland.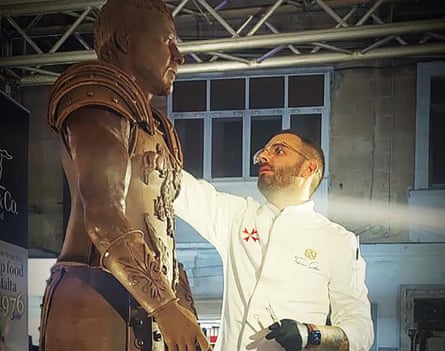 Crowe's sculpture, which is lifesize and weighs approximately 150kg, was made by Tiziano Cassar, who also created an outsized Mickey Mouse effigy for the event. According to a post Cassar made on Facebook, one of his friends reached out to Crowe to inform the actor of his delicious double.
"After dedicating hours of effort and careful preparation, we had the opportunity to display two chocolate sculptures during the evening. These sculptures were well received by many in various ways," Cassar reported.
I was amazed by the number of people who came to see my exhibits.
The highly anticipated follow-up to Gladiator is currently being made, and Malta is one of the places where filming is taking place. Russell Crowe's visit to the country in June, as part of his band The Gentlemen Barbers' world tour, sparked speculation that he may be involved in the sequel. However, he strongly denied these claims.
Maximus, played by Crowe, passes away in the finale of Ridley Scott's 2000 film. When asked about the sequel at the Karlovy Vary film festival in the Czech Republic, he stated, "It does not involve my character. In that realm, I am deceased and buried."
Source: theguardian.com