A
Audrey Amiss, daughter of shop owners in Sunderland, gained attention in the media when she was accepted into the Royal Academy's schools in London. However, during her last term, she experienced her first mental breakdown and was hospitalized. Afterward, she disappeared for three decades and worked as a shorthand typist in the civil service. Despite this, Amiss continued to pursue her art secretly, without anyone's knowledge except for those who attempted to help her. In her own words, she once followed the social realism tradition of painting, also known as the kitchen sink school, but eventually embraced avant-garde style and felt misunderstood.
Carol Morley, a filmmaker, first learned about Audrey Amiss when she received a screenwriting fellowship from the Wellcome Foundation. She stumbled upon the archive of Amiss, who had saved all of her food wrappers, but the collection had not been organized yet. Morley was intrigued and spent an entire day going through the collection. She discovered Amiss's passport, which listed her occupations as "Typist, Artist, Pirate, King."
Morley was inspired by four words to create her eccentric road movie. In the film, we are introduced to Amiss, who kindly assists a struggling beetle and is surrounded by clutter in her shabby apartment. The idea for this scene came from a conversation Morley had with Monica Dolan, the actress who portrays Amiss. Dolan, known for her award-winning role as Rose West in ITV's "Appropriate Adult," suggested having Audrey show compassion towards a beetle early on. Morley was immediately struck by the idea, as it aligned with Carl Jung's fascination with scarab beetles.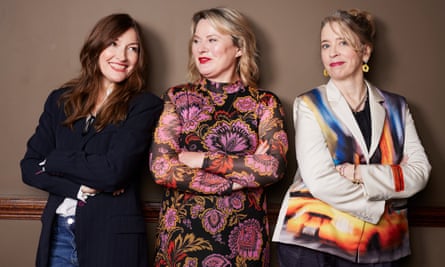 Upon receiving the script, Dolan was taken aback. "I didn't intend for a beetle, I simply meant something resembling a beetle," she states. "You must have said it unconsciously," Morley responds. "And it came with an incredible handler who could control it," Dolan adds. "Yes, and she also had a mouse," Morley remarks. "Who would have imagined a profession as obscure as a mouse and scarab beetle wrangler?" ponders Dolan.
Amiss, who passed away in 2013 at 79 years old, would have surely appreciated this conversation taking place in a solemn hotel room filled with camera equipment and makeup bags. Morley is distributing Typist Artist Pirate King badges like candy and is dressed in a striking jacket adorned with a bright neon yellow car. This is a nod to the beat-up vehicle that Amiss persuades her patient, Sandra, to take on an impromptu trip from London to Sunderland. Sandra, known as Sandra Panza by Amiss, is played by Kelly Macdonald, who has joined us today from her residence in Glasgow.
The success of Typist Artist Pirate King heavily relies on the dynamic between its two main characters. Even in moments of frustration, Sandra (played by Macdonald) remains a loyal companion to Amiss (played by Dolan), a whimsical figure who sees everyone around him as either a friend or foe. Amiss crashes a yoga class, convinced that his former headmistress is the instructor, and causes chaos by squirting ketchup on a couple he believes has wronged him in the past. Initially, Sandra takes the lead while Amiss observes and sketches, but as the story unfolds, it becomes clear that she, too, is lost and in need of someone like Amiss to guide her.
The director explains that he was intrigued by the level of discretion that mental health nurses must maintain in their thoughts. He believes that Kelly possesses a great depth of understanding. Due to the pandemic, their initial discussion occurred through a video call. Macdonald does not remember the conversation, but it led to her being offered the job. She reflects, "It was an unusual period."
In 2021, the trio finally gathered together the night before starting a challenging 25-day shoot that required them to travel between Yorkshire and Sunderland. According to Dolan, there were a few times when they had to choose between staying in Leeds and enduring a long drive, or packing light and spending the night in Sunderland. Their driver commented that it was unlike any job he had ever experienced.
Despite their obvious connection, they were still limited by Covid regulations and rarely interacted outside of their roles. When Dolan unexpectedly came out of her trailer to bid farewell at the end of filming, Macdonald was surprised. She thought to herself, "Who is this woman with dark hair, acting like she knows me?"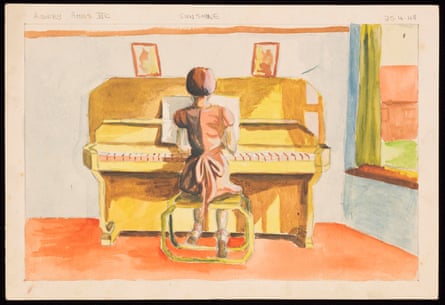 Dolan, who had recently finished filming The Thief, the Wife and the Canoe in Portugal, arrived on set wearing her wig. She initially had doubts about portraying a character in her 50s as a septuagenarian. As she prepared for the role, she realized that her usual approach of asking herself questions did not apply to this character, Audrey. Instead, Audrey's strong personality allows her to shape her surroundings to fit her. Additionally, Dolan notes that the film explores the relationship between mental health and art, so her character could be seen as either a patient or an artist, depending on one's perspective.
Audrey and Sandra could be considered the Thelma and Louise of slow-motion, just as Don Quixote and Sancho Panza are famous literary characters. According to Morley, it would be a mistake to overlook this film as one of the most influential feminist road movies. Not only did women lead the cast, but the majority of the crew was also female. This created a uniquely harmonious atmosphere on set, with no need for loud male voices to be heard. Macdonald reflects on how often she has experienced the opposite in her career, with directors resorting to shouting to get things done.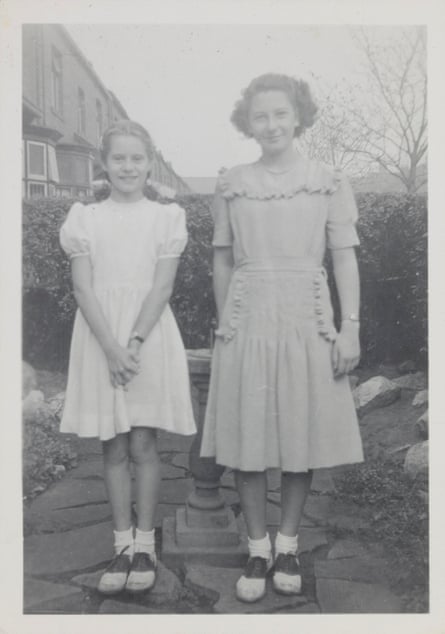 At the beginning of each day, Morley and Dolan would go to the makeup truck together. They would paint ink blotches on Dolan's hands because Amiss often drew with leaky felt-tip pens. "At that early hour, you don't always feel like talking," Morley says. "But it's important to bond a little bit, right?" This was a calm start to long, busy 14-hour days. Dolan remembers asking for her scenes to be filmed last because she was still trying to remember her lines. "Sometimes we had to move on to something else," Macdonald says. "But as long as Carol told me 'Don't worry, we've got it', then I knew we were good."
Morley's biggest obstacle was completing all the filming during daylight hours, as she believes in never redoing shots. During the final scene with the Angel of the North, there was only five minutes available to shoot. This was one of the few times the actors were made aware of the time constraints. Dolan recalls Morley telling them, "If you go to the bathroom, we might miss the shot!"
The movie is a tribute to Amiss's late sister, Dorothy, who had the opportunity to read the script before passing away during the editing process. Morley remembers: "She told me, 'Thank you for bringing my Audrey back.' I was deeply touched by her words, knowing that people in her neighborhood would purposely avoid her. But what I admire about Audrey is that despite the challenges and hardships she faced, she never lost her positive spirit. She found joy in simple things that others might overlook – like a bag of Quavers or the wrapping from a takeout meal."
Before I depart, we discuss potential future partnerships. Both performers have busy schedules. Dolan is set to star in the second season of the crime show Sherwood, and her first play The B*easts, which received a fringe first award, is being translated into Spanish and Italian. Morley one-ups her with the announcement of a new film project featuring a witch who can travel through time. "I've never written for particular actors before," she mentions. "But you and you are both involved – as well as Maxine Peake."
Macdonald enthusiastically responds, "Oh, I have always had a natural inclination towards being a witch."
Source: theguardian.com