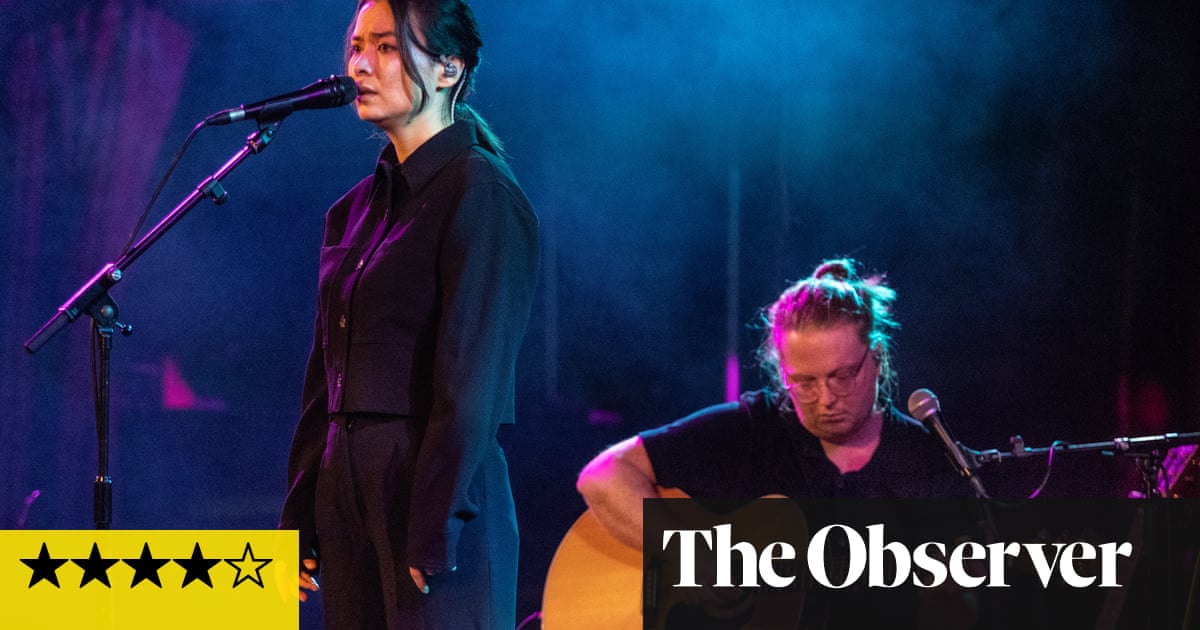 I
According to blues legend, Robert Johnson encountered the devil at a crossroads and made a deal to enhance his guitar skills in exchange for his soul. In Mitski's unique pop song "The Deal" from her latest album "The Land Is Inhospitable and So Are We," the main character embarks on a similar journey in the dead of night.
Eager to escape her tormented spirit, she releases it to the darkness, without expecting anything in exchange. By chance, a bird materializes – possibly representing her liberated soul – and slyly reminds her: "Your suffering may be relieved, but you will never truly be free." Without the bird's song, Mitski is merely a prisoner in her own "cage." The recently released studio album features a barrage of drums and a tumult of mournful strings, illustrating the gravity of this bargain.
This evening, during a quiet tour of smaller venues, Jeni Magana's prominent use of the bowed acoustic bass and Patrick Hyland's amplified strumming on acoustic guitar create a remarkably accurate representation of the terrifying crescendo. Repeatedly, Mitski sings a line about a deal she made, her clear voice rising into the reverberating acoustics of the transformed church.
This intimate concert features her latest album in its entirety, along with a few older songs, condensed into a one-hour set. It seems like a deliberate step back from the larger venues, grander sound, and choreographed performances of Mitski's previous two tours in the UK. While the renditions of songs from "The Land Is Inhospitable" may not have the same impact as the studio versions with their gospel choir, pedal steel guitar, and orchestral elements, this small-scale show is not lacking in intensity, both in terms of romance and existentialism – and even some humor. Mitski, who is typically reserved and conveys her angst with precise control and choreography, takes breaks between songs to chat with the audience – expressing her love for the venue and jokingly saying she would like to "haunt it" after she passes away. She then quips, "Back into character!" before continuing her slow movements around the stage.
Every artist establishes some sort of agreement with fame, and Mitski, who has released seven albums in her successful career as a solo singer-songwriter, has been open about the pros and cons of having a devoted fanbase. Despite being signed to an independent label, Dead Oceans, the Japanese-American musician, who graduated from a music college, has moved closer to the mainstream and further away from her indie rock roots with each new album.
The pandemic unintentionally propelled Mitski to TikTok fame with her 2018 track Nobody, which captured the feelings of loneliness and boredom during lockdown. Despite contemplating quitting music due to burnout from her previous album Be the Cowboy, Mitski's next release, Laurel Hell, embraced a more mainstream pop sound. During tonight's encore performance of the song Love Me More from Laurel Hell, Mitski's character asks to be drowned out by love. This request could be directed at a significant other or her fanbase. The audience, naturally, responds with enthusiastic applause.
The attempts to reach a larger fan base, as well as the numerous agreements, have proven to be beneficial for Mitski as she was chosen to be the opening act for Harry Styles' upcoming UK tour in 2022. However, despite her success, this introspective artist remains conflicted and aligned with her growth.
Laurel Hell's songs have received critical praise for their commentary on her role as a performer. However, one of The Land Is Inhospitable's most cutting tracks, "I Don't Like My Mind," seems to come full circle. Mitski belts out the lyrics "Please don't take my job from me" at the mesmerizing climax of the song. In a statement released in July, the artist announced that she would continue to create music after renegotiating her contract.
Since The Land Is Inhospitable was released, one of Mitski's songs, My Love Mine All Mine, has gained popularity on TikTok. The song, which has a soothing melody but explores the insignificance of human life, has reached 3.39 million streams on Spotify globally. As a result, Mitski has entered the UK Top 40 for the first time and then quickly climbed into the Top 20. The song's lyrics have sparked discussions in multiple Reddit threads and it has even been covered by Clairo. The UK Official Charts website, which typically features artists like Doja Cat and BTS, has taken notice of this sudden surge and published an article titled "Who is Mitski?"
The artist does not mention Mitski mania 2.0 during this performance of "My Love Mine All Mine." She treats the song with gentle attention, accompanied by soothing guitar and deep bass. As she sings, she contemplates the possibility of her love continuing even after death, like moonlight shining down on her "baby" who remains on Earth. The album is filled with peaceful references to the celestial world, in contrast to the harshness of Earth.
Mitski's work often explores the concept of death, just as she questions the value of her art. In her recent performance at the Union Chapel, she ended with a brief solo guitar piece on stage and elaborated on her previous musings about haunting the venue. She proclaims that if she were to pass away that night, she would be content knowing she was able to do what she loves most. With a smile, she declares, "I am fulfilled."
Source: theguardian.com