"H
Madonna, dryly, poses the question, "Have you met me?" as she performs on the third night of her Celebration tour. It is a rhetorical inquiry, considering the singer's 40-year career filled with hits, her continuous status as the highest-grossing female performer on tour, and the multitude of fans dressed in cosplay, not to mention the exorbitant prices for VIP tickets. Despite her previous aversion to performing greatest hits, Madonna has recently changed her mind and is now showcasing her past work, possibly due to a reflective state. Since approximately 2019, she has been attempting to create a self-directed biopic, which is currently on hold as she focuses on her 78-show world tour.
Madonna is not simply making a clever remark about her celebrity status tonight. She makes the comment while standing next to a virtual representation of her younger self, a dancer whose face is oddly obscured by a transparent mask. "I am proud of her," Madonna declares to cheers of support, "she refused to heed the negative voices."
During a two-hour performance, the artist's doppelganger appears multiple times, accompanied by impressive use of multimedia and a large group of dancers. One particularly mind-bending moment occurs when Madonna and her avatar engage in a steamy encounter on a red velvet bed for the song "Erotica," pushing the boundaries of self-love to a new level.
According to Philip Larkin, the modern era of sexual liberation began in 1963, between the end of the ban on Lady Chatterley's Lover and the release of the Beatles' first album. Some may argue that female sexual pleasure didn't truly emerge until two decades later with Madonna's 1983 hit "Burnin' Up," performed in a raw and punk-like style reminiscent of her performance at CBGB's in New York. This sense of female sexual empowerment was further solidified by her explosive 1984 singles "Like a Virgin" (unfortunately not performed tonight) and "Material Girl" (surprisingly absent from the set list). The climax of this movement was reached with her 1990 hit "Justify My Love," which featured a simulated orgy.
Other versions of Madonna are present here too: the host of the show, Bob the Drag Queen, struts around resembling Marie Antoinette, paying homage to Madonna's appearance at the 1990 MTV awards. The dancers' outfits also mirror other iconic Madonna looks, solidifying her influence.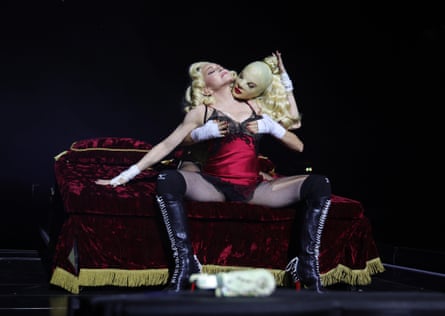 Madonna showcases not only her signature dance moves from the 1980s in her corps de ballet, but also her own physicality. While her performance in Celebration is a delightful tribute to her unique style, there are moments where her movements are affected by a leg brace and are more subtle than acrobatic. This is not a criticism, as a previous bacterial infection delayed the start of the tour and her fans are grateful to see her on stage. Madonna even covers Gloria Gaynor's I Will Survive, adding to the nostalgic atmosphere created by old newspaper clippings and video clips. She could have just as easily chosen Frank Sinatra's My Way or Edith Piaf's Non, je ne regrette rien to convey her message of resilience and self-empowerment.
The level of enjoyment for Celebration is quite high. It features numerous fantastic hits, often performed in a familiar manner due to the lack of a band. The use of live instruments is sprinkled throughout, such as David Banda playing guitar on Mother and Father and Mercy James playing piano on Bad Girl.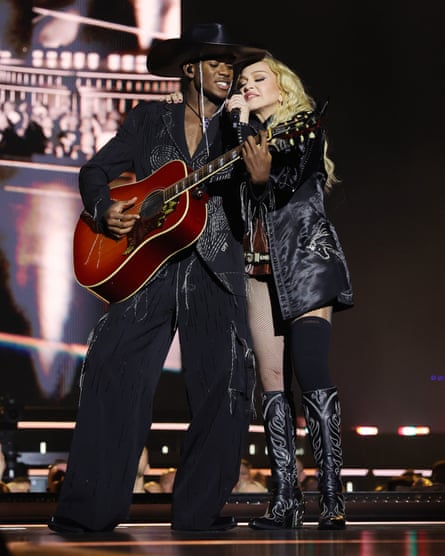 The presence of Madonna's kids is not as overwhelming as one might expect, but there are some parts where her decisions are confusing. The blank expression on the avatar's face is unsettling. In a celebratory montage of Michael Jackson, where "Like a Virgin" is combined with "Billie Jean," it seems like an odd choice considering Madonna's passionate speech about the plight of children in the Eastern Mediterranean conflict. There is too much focus on an interlude featuring "The Beast Within," a remix of "Justify My Love" that references the Book of Revelations. The desert dance-offs are muddled and lack substance, providing only excessive styling.
Madonna's strongest moments are when she challenges the Catholic church, rather than conforming to its beliefs or showing support for the LGBTQ+ community. In one captivating scene, dancers dressed in loin cloths and leather masks are suspended in a crucifixion-like pose inside rotating windows. It will be intriguing to see how this "gimp Jesus" performance is received in Milan, Italy.
Rewording the text…
Revamping Beyoncé's Break My Soul with a Queens remix, Interpolating presents a chance for fun – a prolonged ballroom contest where Madonna (and tonight's guest, Diplo) give scores to the dancers as they frolic down the runway, reaffirming Madonna's support for the ballroom community (despite some opposing views).
The end of the vacation has a melancholy tone, as Madonna covers a motionless dancer with her coat. It is the 1980s and a crisis is looming. Live to Tell showcases individuals who have passed away due to HIV/AIDS.
The large screens that encircled the stage on three sides gradually divided into smaller images, and then even smaller ones, displaying the countless individuals who were affected by the illness. Among the audience, someone releases a single red balloon – a poignant tribute to the pain that accompanied the era of extravagance, and a reminder of this Material Girl's enduring emotional depth.
Source: theguardian.com